Easter is almost upon us, and you know what that means.. Easter baskets, Easter eggs, bunnies and Spring welcoming fun! Of course along with that, also comes the fun of filling and putting everything together, the part I love! This year will be Isabella's 3rd Easter, and just like the previous two I will be on the hunt for the perfect candy alternative Easter egg stuffers for her basket, that are not only exciting and fun for her, but also age appropriate!
This year I'm happy to have somewhere to share some of the great stuffer ideas I've found, some I've used before and some I plan to use this year!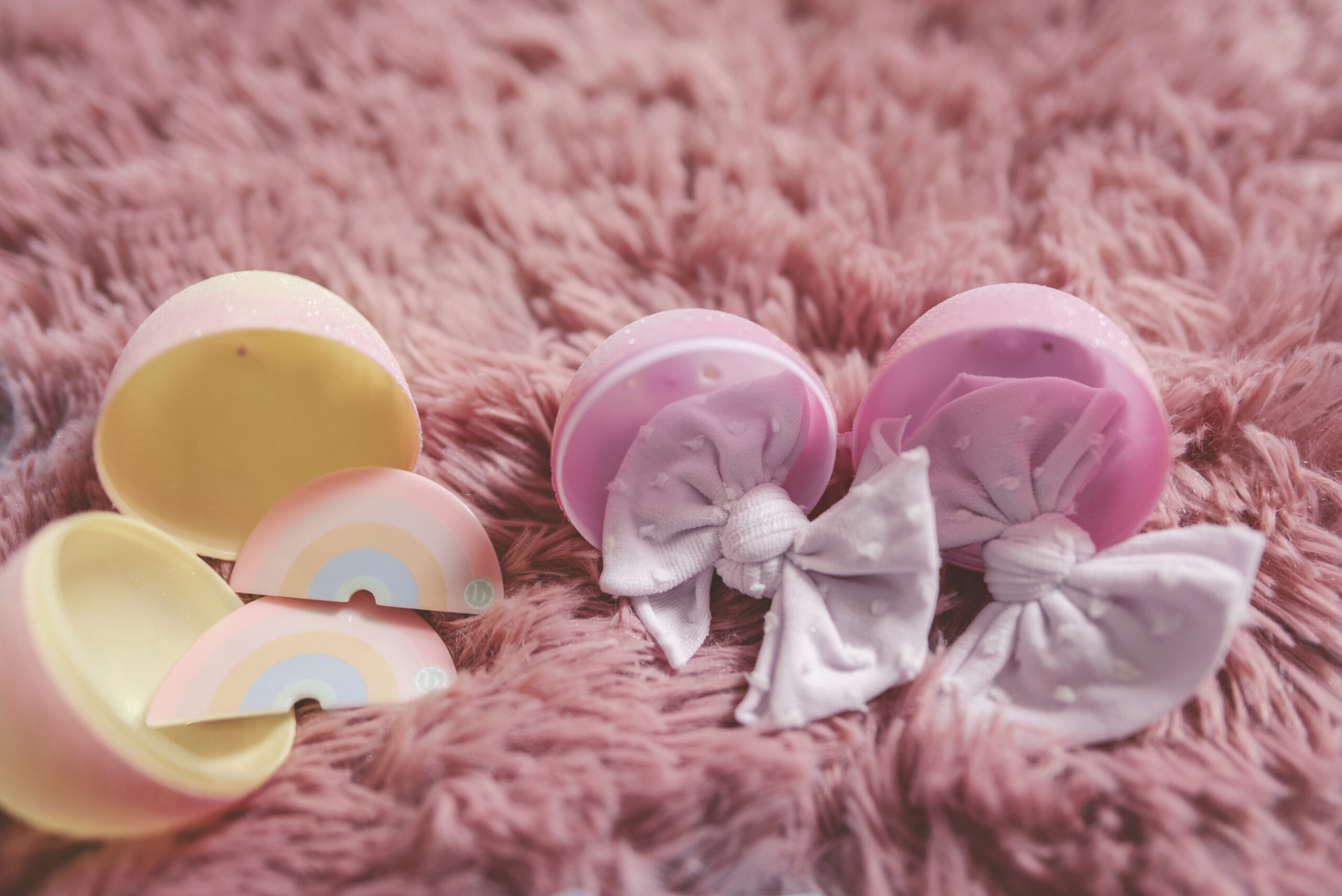 1. Hair Clips, Hair Ties, Headbands and Bows
There are so many options when it comes to hair accessories, and for girls of all ages – baby and up, little hair items are always fun and exciting, not to mention you can find them almost anywhere! Isabella especially enjoys bows and hair clips from Baby Bling Bows, and will be so excited to find those in her basket this year just as she has for the last two Easters!
2. Small Stuffed Toys
One thing our Isabella absolutely loves is smaller stuffed animals such as Hallmark Itty Bittys , which we will definitely have as a couple egg stuffers this year. There are so many different options when it comes to these that you could choose exactly what your child will like. These could be great for an array of ages too seeing as though they can be played with our even just collected for the characters of different shows, movies, etc.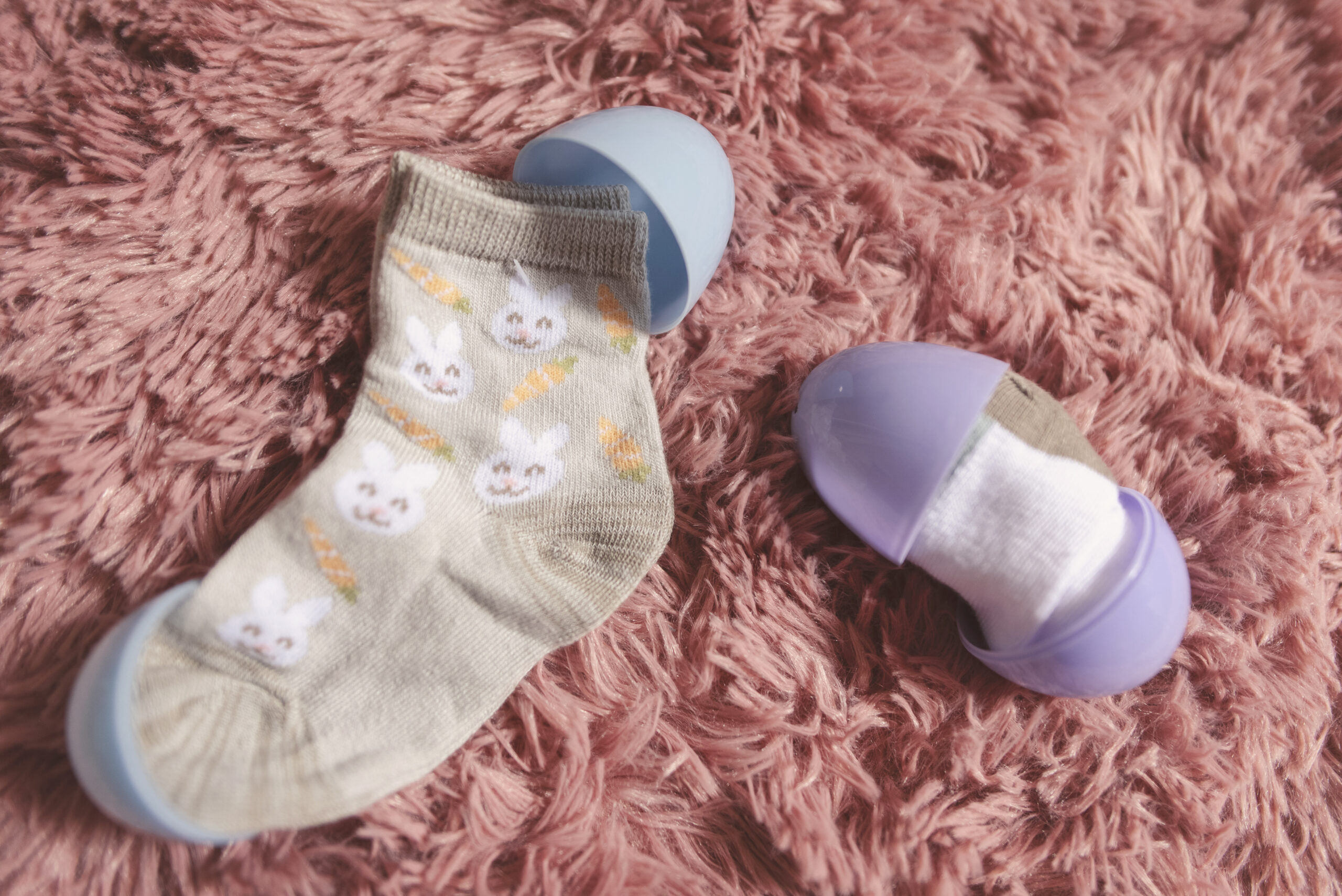 3. Socks
How fun are colorful or cute little socks?! Ones with colors, symbols, sayings, characters, or animals. I have always loved fun socks and it's something Isabella has begun to love too, even more so now that she can put them on herself!
4. Loose Snacks
Though the focus is to create Easter eggs filled with candy alternatives, there are many snacks that could be considered healthier options than your typical Cadbury eggs or jelly beans.. Goldfish crackers, corn puffs, yogurt melts, Teddy Grahams, fruit leather, and fruit snacks are just a handful of snacks that most any little one would be excited to open and munch on while opening the rest of their basket.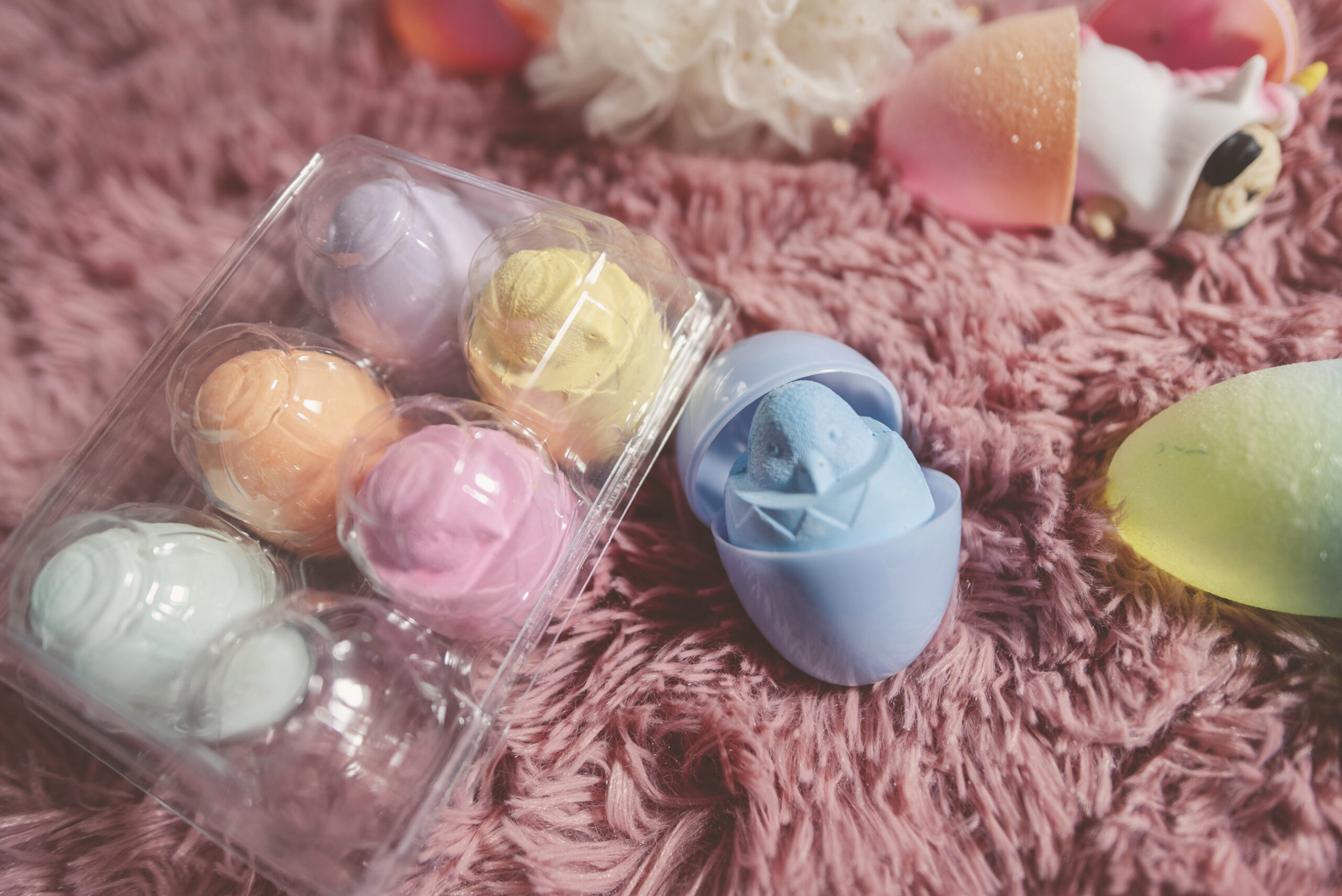 5. Chalk or Crayons
Something I myself find fun and exciting are shaped chalk and crayons. Easter being the gateway holiday into the start of Spring, the promise of sunny play and days spent outside is what chalk is made for! I especially love that around Easter you can find so many stores carrying the egg shaped chalk which seems to last longer than chalk sticks and doesn't break as easily.
6. Bracelets, Necklaces & Kid Friendly Jewelry
Just like with hair accessories, there are so many options when it comes to jewelry for all different ages. Older little girls might enjoy beaded bracelets or items for some they can make themselves, while toddlers would need something sturdier and age friendly. For Isabella, we purchased a couple child size bracelets from Flourish Leather that fit perfectly as egg stuffers. We also got her one in her Valentine's Day gift a couple months back. We love their colors and quality materials!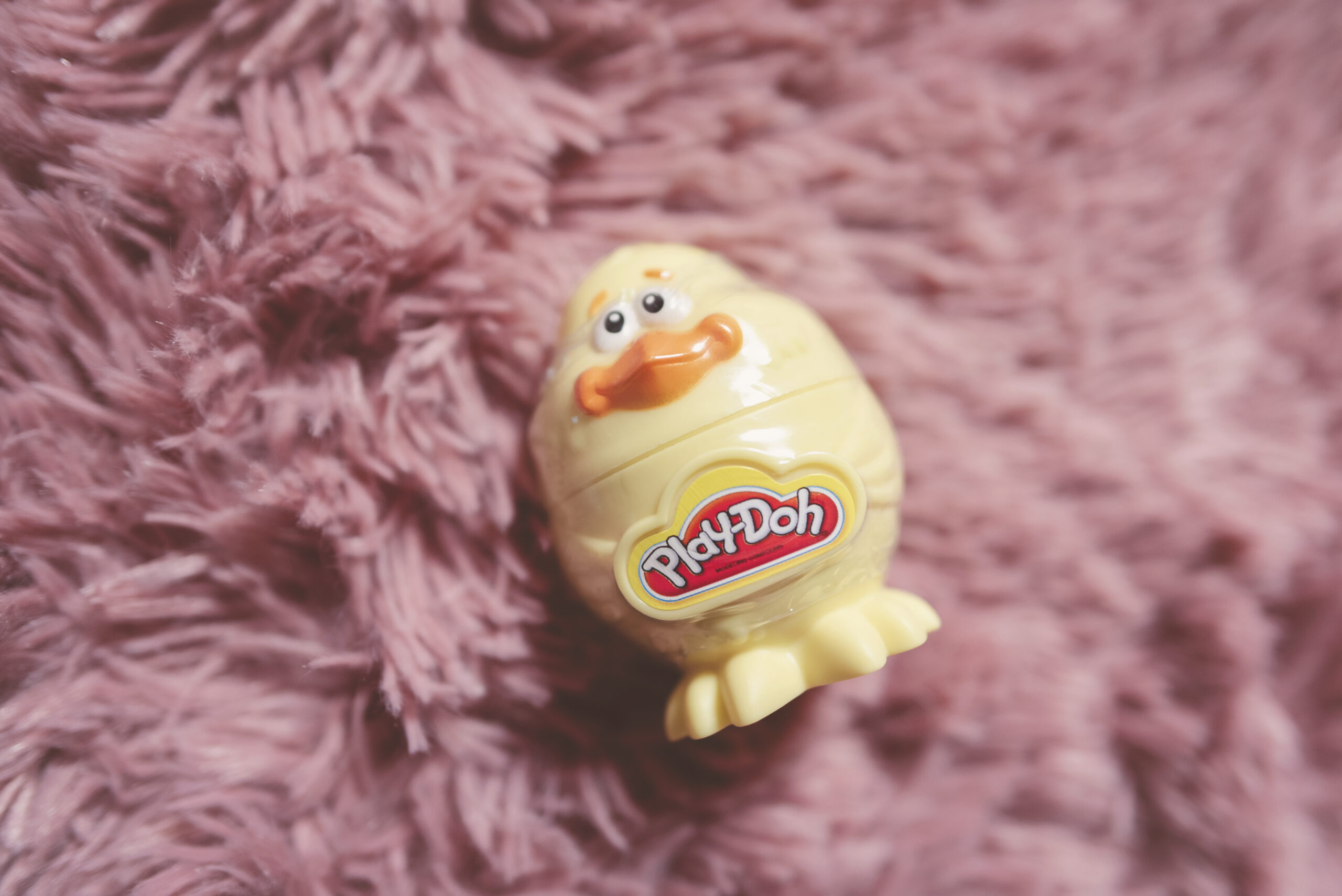 7. Play-doh
Although my mom was never fond of me having play-doh, worried I would get it stuck somewhere it shouldn't be.. I do love anything that can be used to be creative with, and I think it's a great option for an easter egg stuffer. There are so many colors you can find in tiny containers that would fit in larger eggs, and around Easter you can even find bunny or chick shaped eggs that are already filled with play-doh and have little stampers on the bottom of their feet. Of course this is a more age specific stuffer idea, as it is something that requires play supervision for younger toddlers, but it's still a good one. I've even found actual easter eggs already filled with Play-doh here on Amazon!
8. Balls
What kid doesn't love having a new ball, big or small, to kick, bounce or toss around!? Bouncy balls, squishy glittery balls or foam balls could all be great options as egg stuffers. Even a small deflated beach ball or water ball that soaks up water to throw around outside would bring lots of exciting outdoor fun for later in the year!
9. Finger Puppets
Have you ever been at the check out in Carters and not glanced at the adorable little soft animal finger puppets? No? Me neither.. They are downright adorable, and you know what else? They are the perfect size to be Easter egg stuffers! The best past, is that you can find finger puppets at so many different places too, even all over Amazon. They come in soft material or flexible plastic, and they come in so many different shapes, colors and characters if you look around. Great for babies to toddlers!

10. Stickers
There are few things our Isabella or most toddlers in general love more than stickers. It's not that they collect them or would even understand what that means, but for our Isabella specifically, she just loves getting them and sticking them all over place.. On herself, in books, playing with them like their small toys by sticking them on her fingers and decorating them all over anything she can put them on. Stickers make an easy, cheap, and great easter egg filler for any child!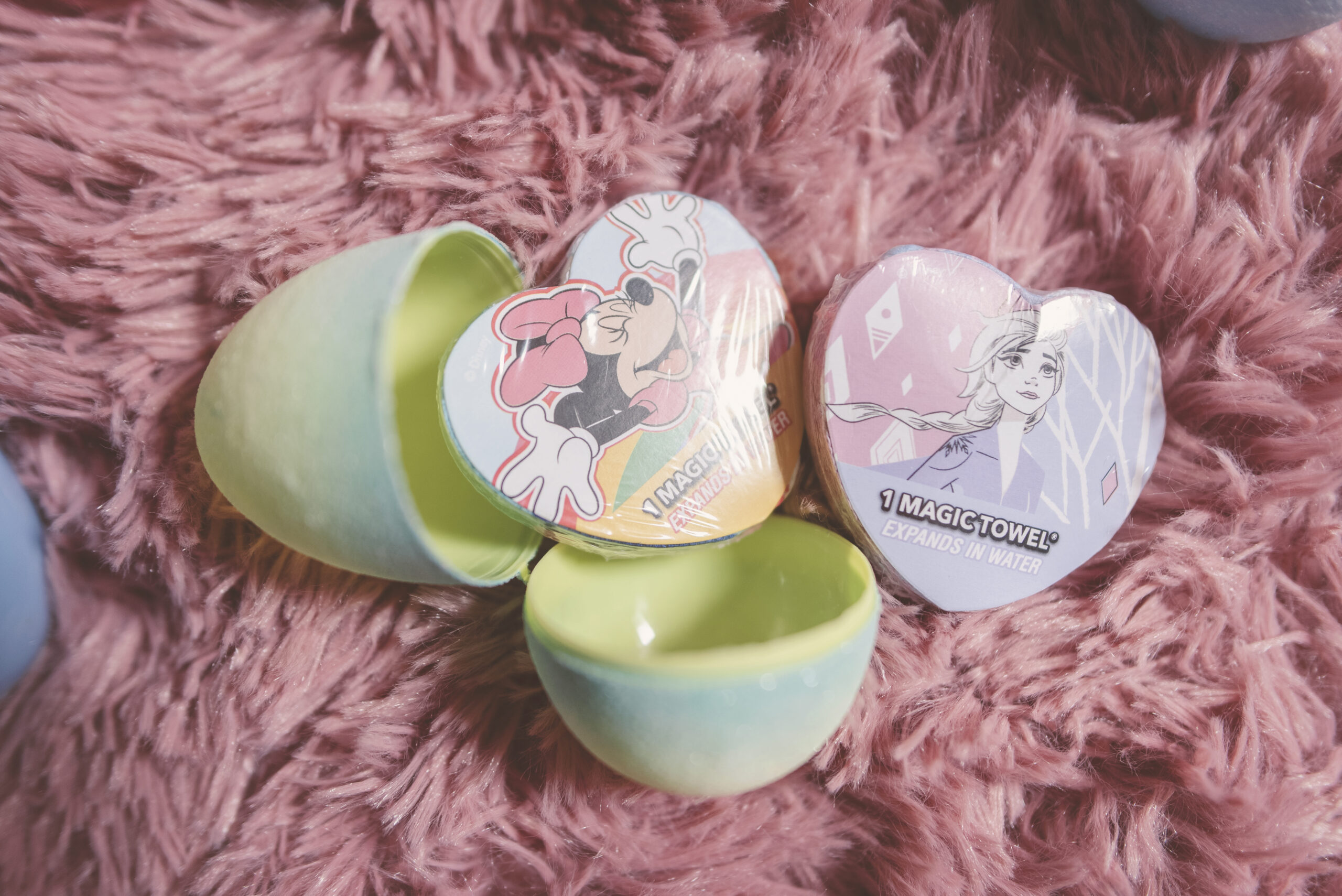 11. Target Dollar Spot Finds
Right before Valentine's Day I came across these grow hand towels in the Target dollar spot finds that I knew would be perfect to save as egg stuffers. I've also come across so many other small items from blind bag toys to tiny puzzles, slime, cute shaped erasers and more throughout the year. So many great options that you could buy and save for your Easter egg stuffing!
12. Bath Toys
Bath squirter toys, mini rubber duckies and foam bath letters would all make for great stuffers that could be used throughout the year. Most are small or flexible enough to fit in various sized eggs and great for bath time fun amongst many ages.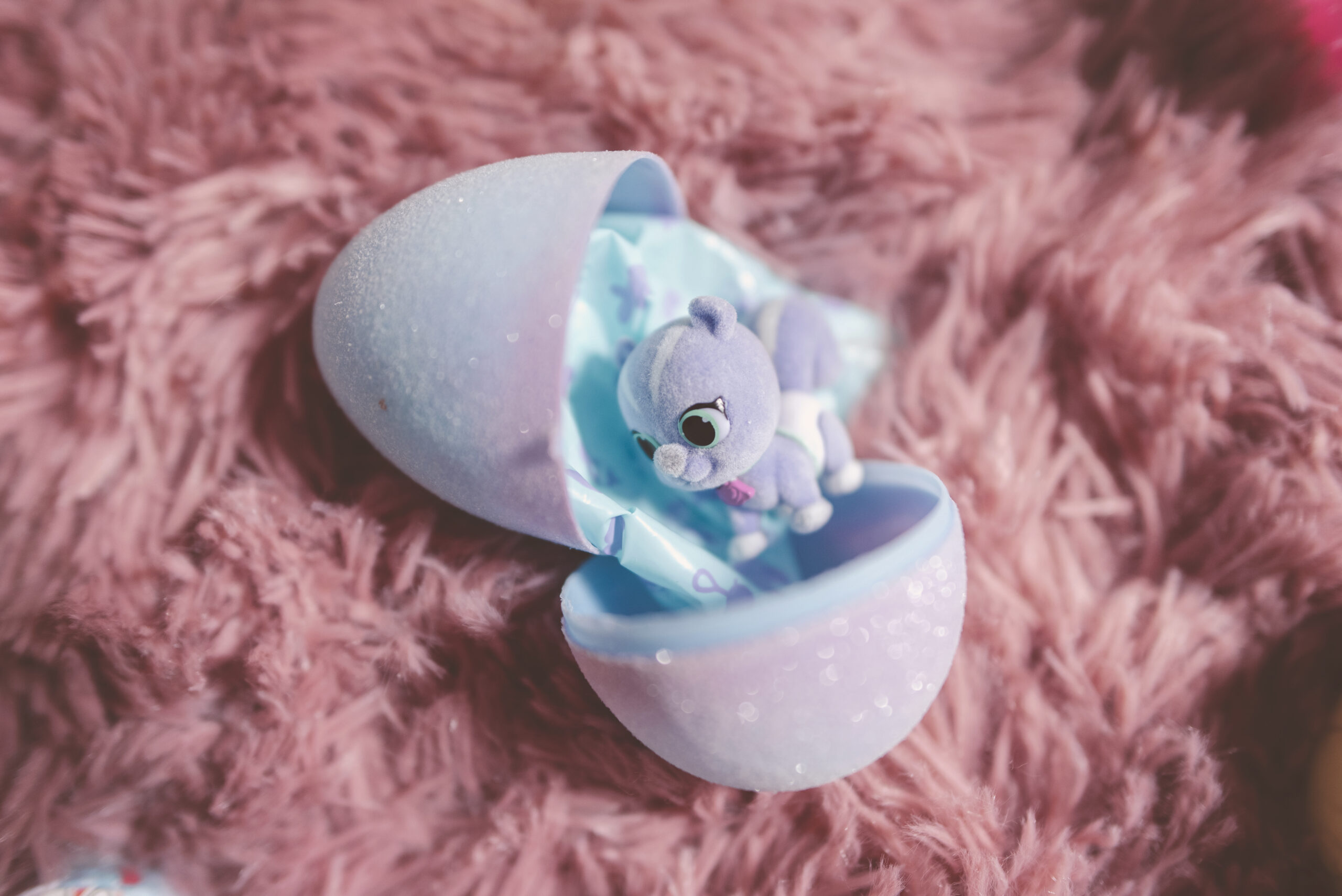 13. Small Plastic Toys
One thing our daughter Isabella absolutely loves is smaller toys and figures! She loves Fisher Price Disney Little People, Disney Jr TOTS babies, and all sorts of Disney figurines from princesses to Disney Jr show characters like Bluey and everything that could possibly go with them. This year she will definitely be excited to see some of these in her Easter eggs and basket! Small plastic toys could have so many different options though for all ages and either gender – Legos, Lego people, Little People, Hot wheels or similar matchbox cars, Figurines of all kinds, or even just small toys such as wind ups or push down pop up toys.
14. Grabease Utensils
Perfect for any baby's first Easter or toddler that still loves using hand sized utensils. Though these are a bit bigger than the normal sized Easter egg, we had fun finding eggs big enough to fit some of these for Isabella's very first Easter! We have loved Grabease, and they come in a bunch of fun colors that make it all the more fun!

15. Kid Nail Polish
As a very girly-girl toddler our Isabella loves sparkles, glitter, and definitely nail polish! She is only 2, but loves when mommy does her "pretties" as she calls it. In her Easter basket last year we included Ella + Mila nail polishes in her eggs, and the Easter before that we purchased Piggy Paint for her tiny baby toe nails! Both great options as egg fillers!