We took our daughter Isabella on her very first vacation when she was just 9 months old. We were new parents filled with excitement for a much deserved vacation while also a bit nervous about how certain parts of the trip might go. Would she be fussy on the plane? Would security even allow her baby formula through? Would she have a hard time adjusting to sleeping in a travel crib that we bought just before? Well I'm happy to say, No, Yes, and No! We flew 4.5 hours to California having zero issues with her on the plane, in fact she slept most of the time. We had no issues bringing her formula through security, and she had no issues sleeping in her new travel crib during our stay. Since that first vacation, we have not slowed down! Now 3 years old, Isabella has been to Florida twice, Disney World twice, Tennessee twice, California, and all over Indiana and Michigan!
As we prepare to head to Hawaii in less than two weeks, I am packed and ready to keep our daughter happy! If you're traveling with a toddler, these are some things that you may want to consider to make your vacation as smooth as possible and enjoyable for both you and your little one!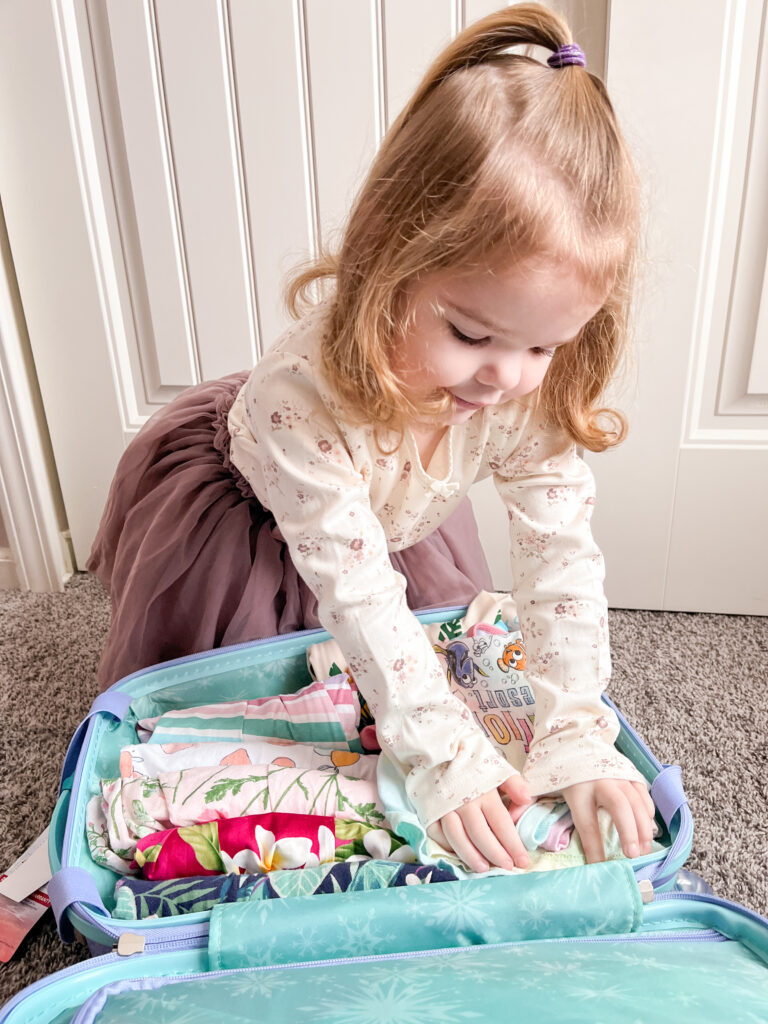 Flights : Weigh Up Your Options, Nonstop or Layover
Flying can be hard for little ones, babies, toddlers or young kids. It's a new experience, your ears are popping, you have to remain in your seat for the majority of the duration, and a longer flight can quickly grow boring to an energetic and very awake child. Not to mention in the current times we live in, a mask is required for the duration of your time in the airport as well as on the plane.
For us, a Nonstop flight is the best option for any flight durations under 5 hours. I would personally rather pay a slightly higher amount to 'get the flight over with' all in one go than chop it up with layovers if I don't have to. This way, once you board the plane you know you're nearly there. Your child can get settled into a movie, a nap, or an activity, and you'll know when you land they will be ready to go!
Layovers are great options to break up a really long flight, if available. For us, going to Hawaii seemed like a long all at once flight, so we opted for a Layover on the way. An hour and a half layover, cutting up our two flights to 4.5 hours each. The layover will be just enough time to stretch our legs, use the bathroom and grab a snack for the next flight, and once we board the second we know we're half way there!
2. Snacks & Activities
Is your toddler a snacker? Of course they are, right? Isn't that in the description for being a toddler? It is for ours! Before going on a trip, whether flying or driving, I always make sure to get Isabella a small variety of snacks that we can easily take with us. Snacks like teddy grahams, gold fish crackers, and cheerios always seems to make it into our bag. Not only are these cheaper than what we might find at the airport or along the way on a road trip, but it saves time in having to find something you know your toddler will eat, and is readily available when they ask for it!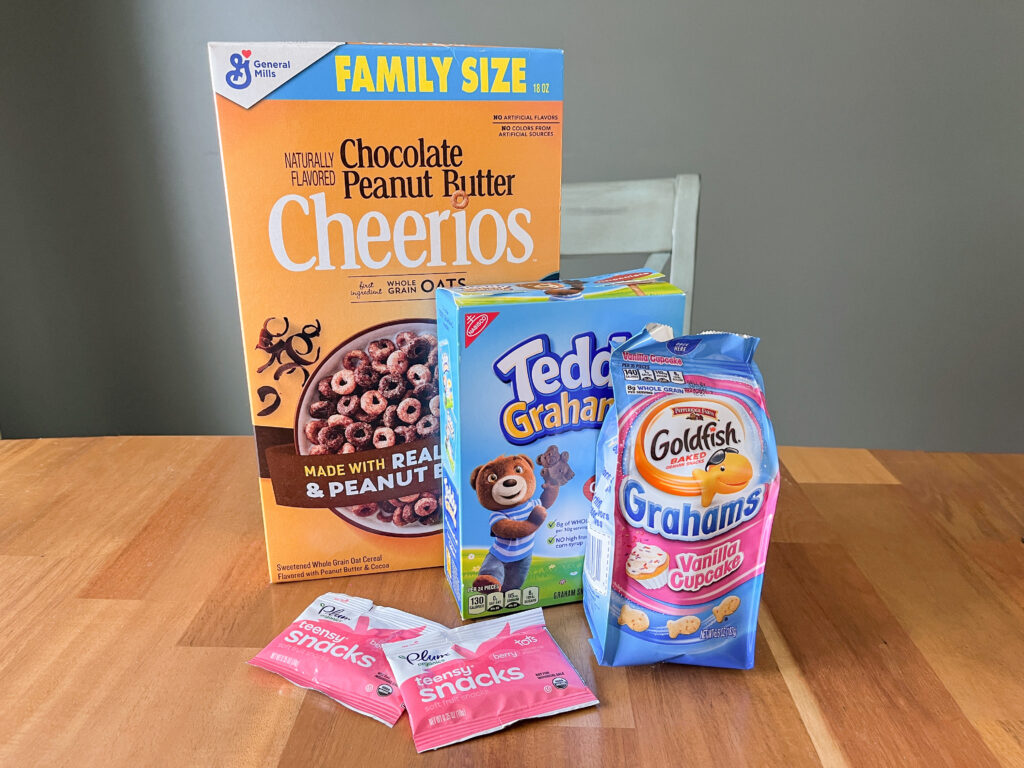 As for activities, it's always great to have things in your car, or in your bag for a flight that will keep your child or toddler happy and quiet. Before a trip we try to make sure we get Isabella a couple little surprise items and activities that we know will keep her engaged for awhile.
Some of our favorite items that we recommend would be,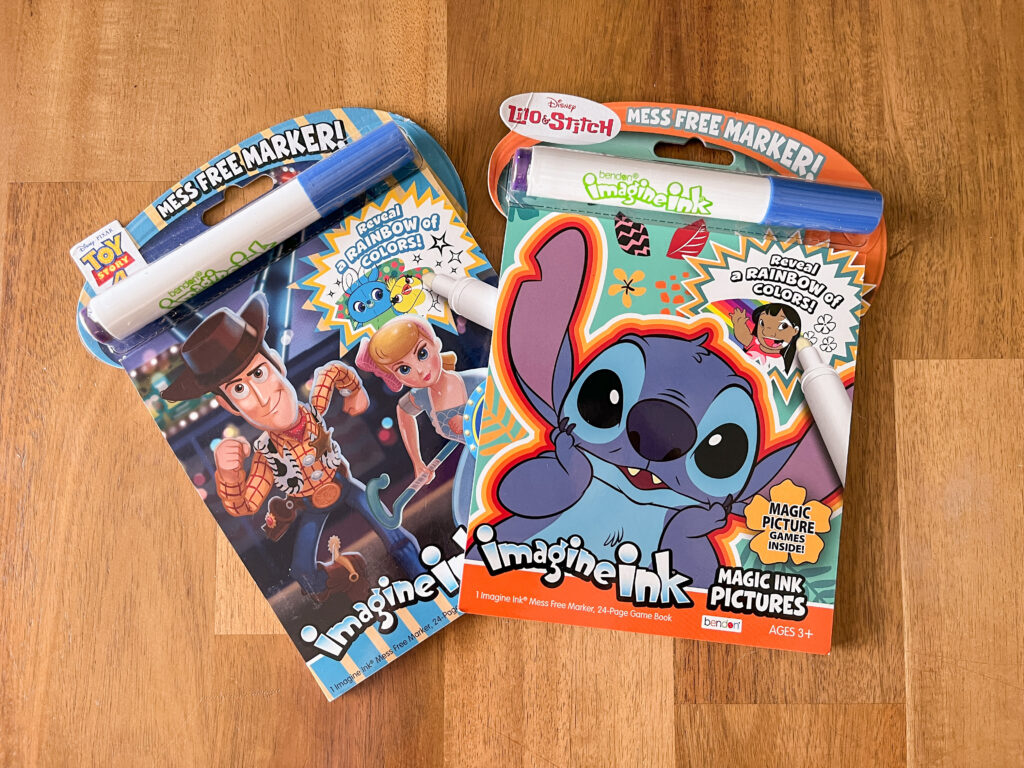 Magic Ink • Mess Free Marker Books –
We love these! There are endless options out there available, but we tend to lean towards the Disney ones most! The only con for these is that once a page is colored in, the page is done. But these are always some of what we choose for our trips, and we have these 2 ready for the flights to Hawaii!
Magic Water or Water Wow Books –
These are great books too, mess free and easy to use. You just fill the little pen with water and your child paints the water on to reveal the colors in the pages. Plus once the page dries, the color fades away so they can do it as many times as they want. I mean, how convenient is something reusable that only requires a tiny bit of water? We love these not only for road trips and on the plane, but also as a keeping busy activity while waiting for food at a restaurant on vacation. Just take a bit of water from the table to fill up the pen and your toddler will hardly notice the wait for the Mac and cheese!
Magnetic Books –
Another great book based activity is magnetic books. So far our daughter just has two, but she takes them and uses them everywhere, even just playing at home. The book comes with different scenes and magnetic characters to play with in the scenes.
Drawing Pad / Doodle Board –
Perfect for car rides long or short, for sticking in a backpack on the plane or even for playtime at home. Isabella is on her second one of these and loves drawing pictures and showing us.

iPad or Tablet Device with Downloaded Movies –
Our daughter will never turn down the opportunity for quiet time to watch one of her favorite movies, and as her likes and interests continue to expand, so will our digital movie library. Although most parents prefer to have as much screen-free play as possible, this is a great option to quiet your child down on a long flight or road trip for an extended period.
3. Make Sure Your Rental Vehicle Comes With A Car Seat
One thing we didn't know when we first had our daughter was that you have to request or pay for a car seat additionally when you get a rental vehicle. Although it is always an option to bring your own car seat from home, if you are flying to your destination it can be a pain to lug around, and you might find the additional daily cost to rent one with your rental vehicle worth it, like we do. If booking online, most rental companies show an option to add one, but if you're spontaneously getting a rental from a hotel or rental agency on a trip, you may want to call ahead and reserve one.
4. Sleeping Arrangements
When planning where you'll stay, don't forget to have your toddler in mind. Are you taking a travel crib with you? Does your toddler sleep in an actual bed now? Will you need to make sure there is a pull out sofa? Maybe, you plan to co-sleep on your vacation? What ever your needs, it's always good to consider this when planning your trip and booking your stay. We've found that most hotels, resorts and even some AirBNBs are happy to provide a crib or pack n play. We've both experienced using a resort's crib as well as taking our own travel crib, which we have done a lot. Our daughter now uses it when she stays the night at her grandparent's house and has even used it to sleep in our bedroom when she hasn't felt good.

For our upcoming trip we will be using a blow up toddler bed which we have found is also a great option. Our daughter couldn't wait to snuggle up in it and check it out when it arrived, and it's less to carry through an airport than the travel crib.
It comes in a carry bag and easily inflates and deflates, folding back up to fit in the carry bag. The whole thing only taking up half the size of a normal duffle bag.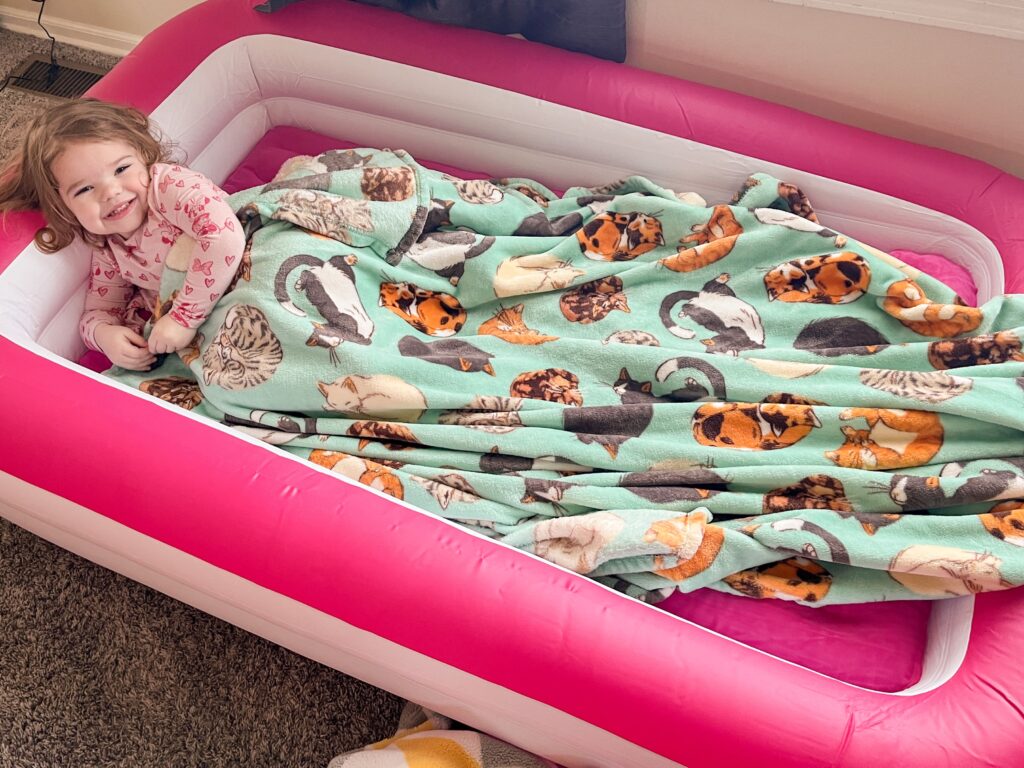 5. Vacation Fun For The Whole Family
When we plan a vacation, we like to take in account what all of us like to do. Of course my husband, Andrew and I love checking out all the sites, taking scenic drives, walking around the areas, stopping to take photos, etc. But it's also important to factor in what your little one enjoys. Of course for babies, they're just along for the ride and can't really express their opinion yet, but by the time your baby is a toddler with a voice, they can! For our daughter, vacation fun looks like swimming in the hotel pool, picking up sea shells along the beach, finding a playground to run around at, and even having ice cream. She's fairly easy to please, but when planning our itinerary we still try to think of what all she might enjoy.
For our upcoming Hawaii trip we are surprising her with a Disney character breakfast at the Disney Resort Aulani, where she'll get photos with Minnie & Mickey dressed in Hawaiian outfits, Goofy will 'make' her some breakfast, and she'll get to pick out something from the Disney shop there! We also have so much swimming planned for this trip, along with some other fun things such as visiting the Dole Plantation where we will get to go in a maze, ride a little train, and of course what she keeps telling everyone, have pineapple 'ice cream'!
Wherever your vacation or trip will take you, there's always something you can find to excite even the youngest family member, and remember, even the smallest thing can be the most exciting; and at the end of the day, it's all about the memories you made together!